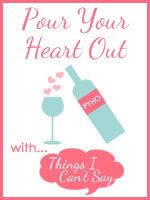 I struggled SO hard with this last week... I would start. Then stop and erase. Start again. Erase. Then ended up reposting something from a few days prior. Hopefully I will not have the same problem this week...
I am having a hard time adjusting to the fact that my baby is growing up. She wants her independence and wants to do for herself. I am having trouble letting go. It started with brushing her hair. Small I know but oh so big in my small world. She will not let me touch her hair, unless it is to give her a pony tail. She has not yet mastered being able to brush her hair back and pull it into a tail. Small score for me. The next thing was pouring her own drink. Which she still needs help with if the container is too full of milk, juice or soda. So I have yet another small score. And then came being able to make her own sandwich! Oh how proud she was of herself the first time she did it! And I was proud too but sad at the same time. The more independent she becomes the less she needs me.
I cry when I think about how much she is growing. And I get sad. Sad that I will never get to hold her in my arms like I did when she was a baby. Sad that the bigger she gets, the less I can pick her up. Sad that she is not the same as she was before she started school. She is still sweet and good natured but school and being around other kids with different personalities has given her a sassyness that wasn't there before. I am learning to deal with it and learning that all these things are what is going to make her what she is when she grows up (I don't know if that makes sense to anyone else?)
So as she reaches these accomplishments of independence I will be proud of her and voice how proud I am of her. While on the inside I cry at the rate of which my sweet pumpkin is growing up. She will be a teenager before I know it... Then all hell will break loose! I just know it!