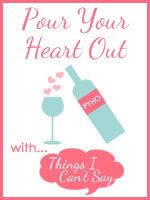 I originally posted this last Sunday. Some of you have already read it. I feel it fits in with Shell's Meme for today. I tried to write something else but just could not get the right words to fall. Hopefully next week I can come up with an original. Sorry that I had to repost...
It was brought to my attention this past week that Kaylee has been having trouble with one of her classmates. This little wenchbaggirl has been trying to tell Kaylee who she can and can't be friends with. I find all this out one morning as I am trying to get her ready for school. She gets this look on her face like she's gonna cry and I practically have to BEG her to tell me what's wrong. Feels like a major Mom FAIL already because I had to beg. I have ALWAYS told her that she can tell me anything with no worries or consequences. Why would she not feel comfortable enough to confide in me about this? And since she wasn't comfortable will she ever be able to talk to me about sex, her period, boys, etc., etc., etc.?? Apparently there are some issues that need to be worked out.

Back to the little girl... I tell Kaylee to tell this little chick that she does not dictate who Kaylee hangs with. I tell her to ignore this girl after all this is said. I get in return, "Mama, I have done all of that!" In chimes Big Daddy Randall to say that he will speak with her teacher and have it handled. Now I appreciate that he is sticking up for his baby girl but this is not the first time that he has went to the teacher when she has had trouble with 'mean girls' in her class. I want her to be able to stick up for herself. I want her to come to us 1) if it is a MAJOR issue that is too big for her to handle or 2) she has exhausted every option that she has before involving 'adults'. I'm trying to teach her to fight her own battles (instead of being labeled "The Tattle Tale"). Am I trying to enforce this at too young of an age? She is almost 8 going on 21.

I really think it all boils down to the girl being jealous of Kaylee. Kaylee is advanced in all her subjects and when she finishes her work, she helps the other kids with theirs. She tries to be friends with everyone in the class and gets hurt feelings when the friendship isn't reciprocated. I have tried to tell her that you can't be friends with everyone that there will just be some people who won't like you no matter what you do. I guess that is another MAJOR Mom Advice FAIL.

Lord if I'm having troubles now, what will it be like when she becomes a teenager??