I do not even know how to approach this.
Because it is something that I am not even remotely close to knowing for sure.
It is only a thought that has been lingering in the back of my mind.
She is only nine years old. But is it possible that she could be gay?
I only wonder this because she doesn't like any of the boys in her class.
I try to remember how I was at nine. Did I crush on boys at that age?
I have a hard time remembering.
I know by sixth grade I was head over heels in "like" with at least two of the boys in my class.
Her best friend's birthday was on Monday. As a present, she drew her friend a picture and wrote her a letter.
The picture was of a girl, so I figured that it was a portrait of her friend. The letter. . . The letter was something else. . .
It explained that the picture was a combination of her and her friend. And went into detail as to what facial feature belonged to who. So that if she was ever lonely all she had to do was look at it and know that she wasn't alone.
It's a nice thought.
But. . .
It was the way the letter was worded that made me wonder. . .
Is my daughter gay?
She was so proud. And I couldn't find the words to try and explain that they might be taken the wrong way by someone else.
Is this something that every parent wonders/worries about?
Am I reading too much into it?
Is it simply just a phase?
~~~~~~~~~~~~~~~~~~~~~~~~~~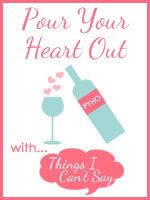 Go check out what others have shared today, won't you?